SINCE 2005
ALUXE has continuously innovated and pursued excellence, step by step successfully serving over 200,000 couples with 10 stores across Taiwan, and also expanding to other locations such as Hong Kong and Singapore, becoming the top choice for wedding rings.
| Global expansion from Taiwan with numerous branches worldwide.
ALUXE has been dedicated to crafting high-quality jewelry since its founded. With a commitment to valuing every customer, ALUXE uses diamonds to commemorate life's most precious and loved moments. Starting as an online retailer, ALUXE's high-quality products and affordable prices gradually garnered more attention. Following its success online, ALUXE opened physical stores in 2008 to offer even better products and services to customers around the world.

The name ALUXE comes from the abbreviation of "A luxury moment," representing the precious moments we all have, as well as the brand's philosophy and style. Through ALUXE, the brand hopes to enable every customer to feel their unique and precious love, and enjoy a full sense of happiness.

The brand logo of ALUXE also has its unique meaning. The diamond pattern in the logo represents the brand's pursuit of excellence and perfection. The diamond pattern combines the five letters of A-L-U-X-E, perfectly conveying ALUXE's products and services that shine like diamonds. ALUXE not only symbolizes our pursuit and insistence on quality, but also our belief in spreading happiness and turning every unique moment into an eternal memory.
ALUXE Founder/CEO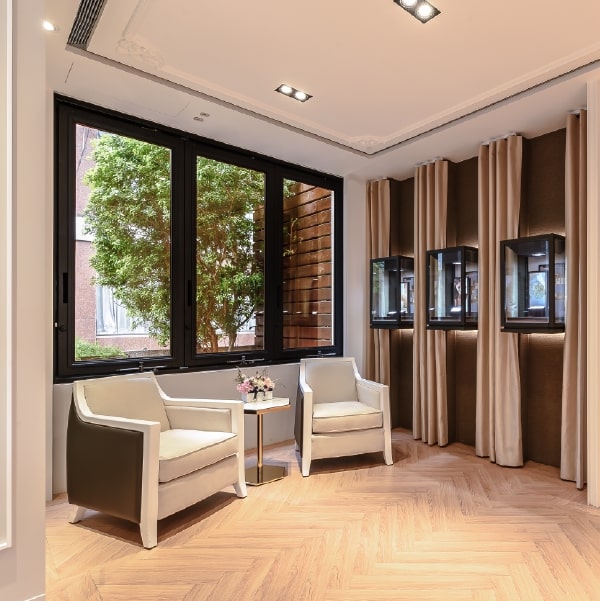 Quality

Exquisitely Presented

Diamond Quality Experts:
40 Years of Industry Experience for Pristine Selection.

With unparalleled cutting techniques, we showcase the ultimate brilliance of diamonds, which is our proud signature. We not only offer diamonds that meet international GIA certification standards, but also adhere to ALUXE Standard, carefully selecting each diamond presented to you. This ensures that you not only receive internationally certified diamonds, but also the best possible assurance.

Design

Thoughtfully Curated Customized

Extensive wedding ring designs
for effortless personalization of your happiness statement.

We believe that ring designs can beautifully represent the essence of love and unique emotional states of each story. We offer a wide range of wedding ring styles, from original brand designs, custom-made wedding rings with exclusive German craftsmanship, to matching rings from a hundred-year-old Japanese jewelry brand, and even Disney-themed collections to fulfill everyone's fairytale dreams.

Experience

The Journey of Love

We understand your excitement, concerns, and anticipation.
We tailor a personalized viewing experience just for you.

Our professional consultants provide warm one-on-one consult, from proposal information, wedding customs and traditions, to daily attire and jewelry care needs. Our dedicated team of consultants will provide the most friendly assistance and sincere advice. Entrust us with the most important moments of your life with confidence.
acredo exclusive: customized happiness with every precious moment. 100% customized service in collaboration with the exclusive German wedding ring brand, acredo. Design your perfect wedding rings to match your dreams, with options for curvature, width, surface treatment, diamond settings, and material mix. Instantly visualize your design with computer 3D modeling and samples, no waiting required for your ideal wedding rings.

Experience a love beyond forever through the strength and purity of diamonds; planting seeds of happiness for endless Love. ALUXE values customer needs and experiences, and is committed to eco-friendly practices. For every customer who purchases a wedding diamond ring, we will plant and foster a tree in Taiwan as our contribution to the environment.